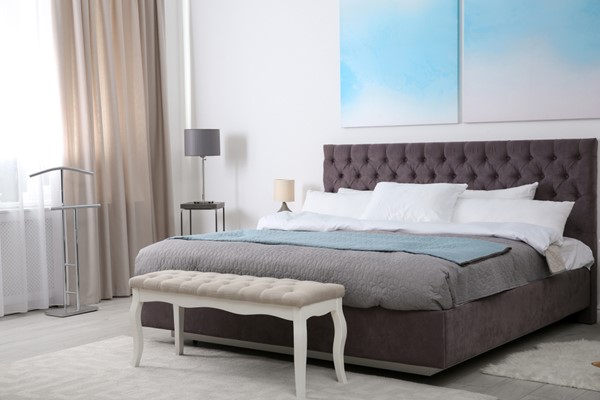 You are reading this post in order to get inexpensive ideas for creating a luxurious bedroom, or you want to gain insights for upgrading your relaxation space into one that speaks of luxury. For whichever reason, you're on the right page. When you think about luxury, a second thought about extravagant costs usually pops up. Luxury, to some, is almost synonymous to high living.
However, there is good news. There are ways to get that dream luxury room without your budget being profoundly affected.Here is a look at the tips for designing your bedroom to be luxurious, and at the same time, pocket-friendly:
Upgrade your light fixture
Your bedroom can assume another thrilling look when you take out those outdated fixtures and replace them with chandeliers. Some of these statement-making pieces are readily affordable.
Change your nightstand
It is time to do away with that nightstand with almost no space for all the basic things you need to have handy. An elegant luxury nightstand should have at least two layers. The top can hold your lamp, a glass of water and probably an alarm clock. If you are the type that reads a couple of books before going to bed, you could place those in the second layer.
Create more space
A room with too many accessories cluttered at some point never looks luxurious. Ensure there's enough floor space with some plush rug. You can have a canvas painted on the floor if you have an obsession for art. The essence of creating space is for the room to look clean and orderly, and that is what luxury is about asides expenses.
Never ignore proper organizing
As stated above, a luxurious room is always clean and orderly. It'll be against the 'laws of luxury' to have piles of books or other materials cluttered in a place. There are inexpensive racks and chests with varying sophisticated designs you can use.
Go green
Indoor plants help to filter the air and add pleasant scents. They can also make your room go from average to luxurious with their beautiful details. There are varieties of plants you can have indoors, and the pots you place them in should be attractive, with a contrasting color.
Rethink your hardware
Another useful trick for making your bedroom look luxurious is by upgrading some accessories. You can replace metallic wardrobe knobs with ones made of sparkly crystal or glass. This simple change is an inexpensive upgrade to do.
Go for statement pieces
An armchair directly opposite the bed, a dresser with a subtle art piece above, or a velvet rug on the floor, all have something in common; they attract attention and give hints of luxury. You can decide to have one accessory as a centerpiece to be the bedroom's focus.
Bring in more throw pillows
When you look at pictures of luxurious bedrooms, you will see a clutch of throw pillows with printed patterns or contrasting colors. They give a unique sense of luxury and can fit comfortably in your budget.
Don't wait around if you think your bedroom is outdated. Visit the closest mall to purchase some items and try a few of the ideas you've just read.