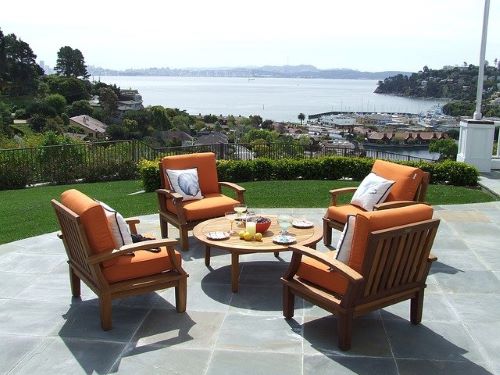 Patios are often referred to as extensions of the home. It's an excellent place to build an outdoor kitchen, entertain around an outdoor fireplace or just generally lounge about on a breezy day.
However, there may be a few other ways you can give your patio the ultimate facelift without lifting too many fingers.
Here are a few excellent patio ideas to spruce up your outdoor space to get the most out of your home's extension.
Inexpensive patio decorating ideas
Use painted flower pots to give your backyard extra vibrancy. You can find affordable flower pots at your local home goods stores and some thrift shops. Use acrylic paints in your favorite colors to really make your painted pots pop.
Another affordable DIY project is creating a small, paved patio walkway. A cement or stone patio pathway can add an elegant yet earthy vibe to your backyard space.
Give outdoor furniture a try
Do you have well-loved plastic outdoor furnishings? Don't throw it out! Give your outdoor patio furniture a makeover by spray-painting them. For example, if you have an older wooden outdoor bench, try exterior wood paint to bring it new life.
Floating garden beds
If you have a small pond, floating gardens make for delightful backyard decor. While this is a more advanced DIY endeavor, it tends to bring tranquility and added relaxation to your backyard space.
Key materials for this project include: bamboo, a bed of leaves, soil and seeds. Once you have created your bamboo raft, add your soil and plant the seeds. The garden's aesthetic is sure to delight and relax as your rafts float gently in the water.
Your outdoor patio is an extension of your home. Outdoor spaces can be fun, cozy and a great place of relaxation.