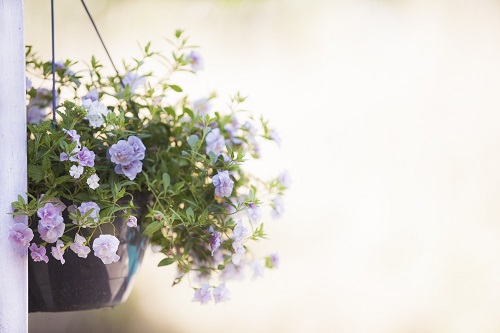 Even if you don't have room for flower beds or a traditional garden, there are plenty of garden ideas for patio spaces you can use. You can make the most of even a tiny patio by using the right decor and plant choices to save space.
If you're stuck trying to design your garden patio, here are some great ideas to get you started:
Give your outdoor living space a little TLC
Healthy plants are beautiful plants, so make sure you're taking proper care of your garden space. Group plants with similar care needs, like sunlight or water, together for easier maintenance and more naturally happy greenery. Prune or pinch faded blooms or leggy stems to promote new, abundant growth and keep your patio garden thriving.
Turn it into a tropical oasis
Who wouldn't want their own tropical getaway in their own backyard? Use the tropics as your inspiration. Create a luxurious and relaxing patio garden with statement plants and a water feature. Banana plants make an excellent choice for adding instant tropical flair to an outdoor space, and a shaded waterfall will promote relaxation.
Utilize pots in a small garden for themed inspiration
If you're working with a small garden space, you can use plant pots to create interest and impact while saving space. Try using potted plants in matching containers. If you have existing pots, give them a fresh coat of paint to create a theme for your small space. Add some decorative accents to enhance the aesthetic and add personal flair.
Add a gallery wall made from living plants
A vertical garden is one of the best small garden ideas for patios with limited space. By mixing different sized planters and plant varieties, you can make a gallery-style living wall even in the smallest spaces. For extra functionality, include herbs and other edible plants.
Hanging planters are another favorite option for small garden designs, whether they're on a wall or overhead. If you have a covered patio, add hooks and chic macramé hangers to surround yourself with green foliage - all without taking up floor space.
It might seem difficult to garden in a small space. However, these ideas should help you get inspired to create the perfect patio garden of your very own.